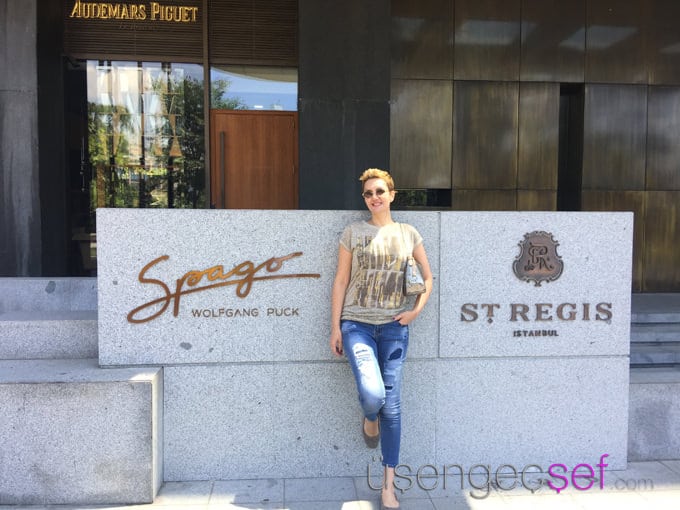 Imagine a hotel, embedded in the heart of Nişantaşı, one of the best addresses in İstanbul, where world famous fashion brand stores meet art galeries and the finest venues for dining and entertaining, situated across from Maçka Park alight with all the hues of green and offering glorious views of the Boshporus to top. Furthermore, a hotel that makes one feel its absolute commitment to art and service quality. It's hard to imagine finding all these aspects all at once, isn't it? When you read my experience beyond expectation at St. Regis Hotel İstanbul, you will understand why I am so excited to share this unique experience with you.
As the most luxurious brand of Starwood Hotels and Resorts, one of the most important hotel groups in the world, St. Regis is a hotel chain that targets new age "luxury travelers". It's locations span more than 30 of the most important cities of the world. You may recall that, when it first opened last year as a joint venture of Starwood Hotels & Resorts and Demsa Group, I had been one of the first to visit, attending an invitation by world famous 2 Michelin Star, Master Chef Wolfgang Puck, official Chef for the Oscar parties for the last 21 years, to his restaurant Spago and shared my impressions with you.
This time I stayed at The St. Regis İstanbul for a whole weekend so that I can experience and share with you the whole atmosphere of the hotel and not just the restaurant. If I say to you that 'The Bentley Suite' excited me and my husband just as much as Wolfgang Puck's Spago, you may think "isn't Bentley a car brand? What does it have to do with the hotel?". Don't hurry, I will explain.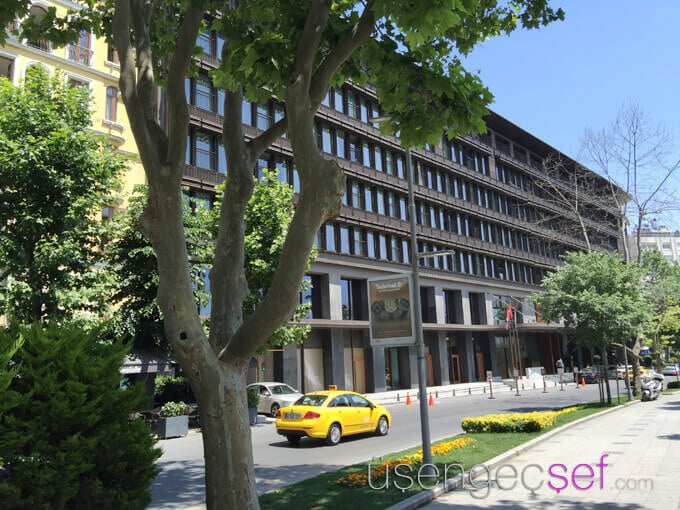 Otelin başlangıç hikayesi 1890'ların Amerikası'na dayanıyor. "Altın Çağ" denilen o dönemde Caroline Astor adında varlıklı bir kadın yaşıyor. O dönemin en zengin politikacı ve sanatçılardan oluşan "The 400" diye bir grup kurmuş ve bugün Empire States'in olduğu yerde Beş Çayı partisi gibi davetlerle bir araya gelerek, bu etkinliklerde "butler service" denilen uşaklardan hizmet alıyorlar.
The story of the hotel begins in America in the 1890's. In the times called "the Gilded Ages" lived a wealthy lady by the name of Caroline Astor. She formed a group called "The 400" which consisted of the richest politicians and artist of the time who met where the Empire State Building stands today and enjoyed Tea Parties served by "Butler Service".
Caroline Astor's son, John Jacob Astor IV, having been brought up with these events grew up to integrate these traditions in his own hotel and did what was never done before by opening the first St. Regis Hotel in 1904 on the corner of New York's famous 5th Avenue. Having differentiated his hotel from all others with the "butler service" the hotel is chosen "America's best" in its first year. Would you like me to enlighten you about "what a butler does"?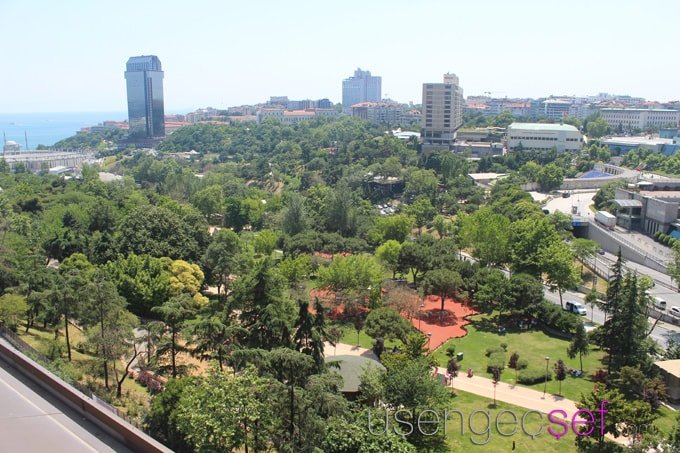 Isn't time the one and most valueable thing that we have the least of in our hectic lives? During our stay the biggest support in terms of our limited time came from the "St. Regis private butler service". How? Let me explain and you're going to love this.
The slogan of the butlers trained by Head Butler Atilla Cimşit, a graduate of the school that trains butlers for the British Royal Family who went on to extend his experience on luxury cruise liners such as Crystal Cruises and lived in Canada for 26 years, is 'Allow me' meaning 'allow me to do it for you'.
Let's say you are staying at the St. Regis, you can ask your butler to take care of anything that you don't have time to deal with or that you don't want to bother with. These butlers who think of every detail to assure that the guests have the best experience possible during their travels are immaculately presentable as well as very well versed in their foreign languages.
They are more like 'Pepper Pots' in Iron Man rather than 'Alfred' in Batman. They are more than pleased to organize anything for you from in-room dining to your morning newspaper, acquiring a gift that you left to the last minute to take care of or having your suit dry-cleaned before your meeting the next day. From unpacking to re-packing your suitcase to researching and purchasing a book that you want to read, all your needs will be taken care of by these butlers as if they are your right arm. You just call the butler service desk, they take care of your requests and when necessary send the butler to your room. This is an ideal and wonderful service for those guests who have everything but don't have an abundance of 'time'. As I've had the experience I can honestly say that it's a great pleasure. The best part is that whether you're staying in a Suite of standard room at The St. Regis, you can take advantage of this service. You can even send an e-mail or text your request thru Whatsup 24 hours a day 7 days a week. But a word of caution: This can get easily addictive! 🙂 I have to admit that when we came back home and no longer had the butler service, we were lost, I called 'Sebastian, Sebastiaaannn?' towards the back room, but unfortunately there was not reply 🙂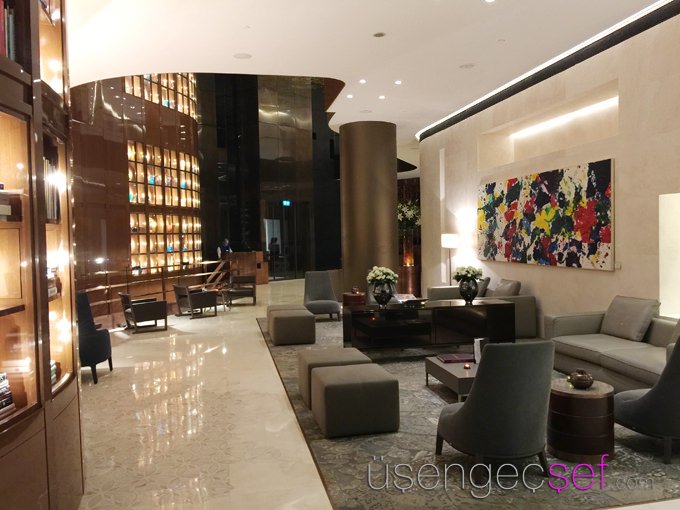 The hotel doesn't boast "The best address in İstanbul" in vain. You leave your room and 1 minute later you are in the center of Nişantaşı where the best store, care, restaurants, entertainment venues and art galeries are located. If you feel like a walk in the park, Maçka Park with all its glory, resembling the Central Park we see in movies, is right across from the hotel. Taksim is a 15 minute walk…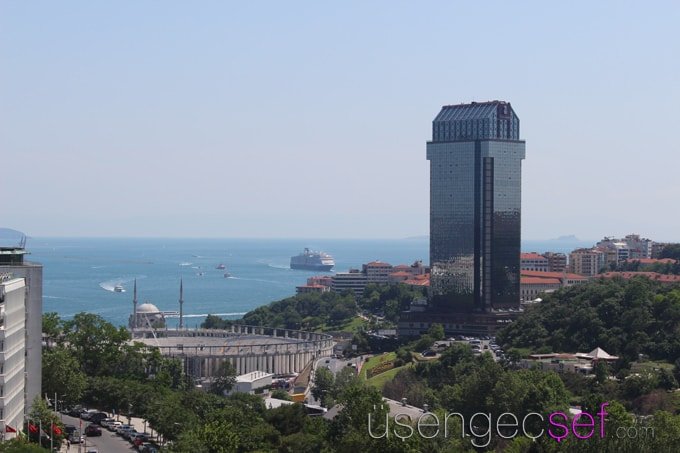 If you want to see Sultanahmet, Karaköy and the historical peninsula it's near by as is the Osmanbey metro entrance, a mere 1 km from the hotel.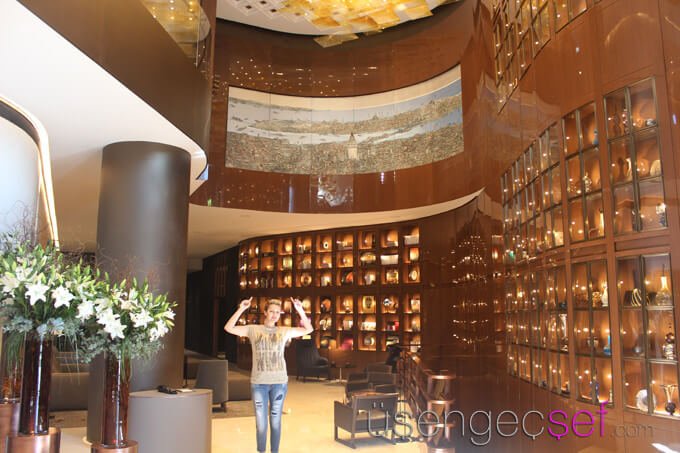 The St. Regis İstanbul has a total of 118 rooms of different composition and size including 14 suites, designed by award winning architect Emre Arolat with inspiration from the 1920's 'Art Deco' period in İstanbul. Do you remember those display cases that used to fill the most prominent space in the living room of all our homes, in which we would display our most precious crystal glasses, photo frames and accessories. The display case covering a whole wall in the lobby, rich with books by Assouline and precious Hiref creations, and the cases used to decorate the rooms and suites, have been inspired by these old glass cases with the added effect of the 'Art Deco'. Earth and bronz tones are prominent throughout the hotel.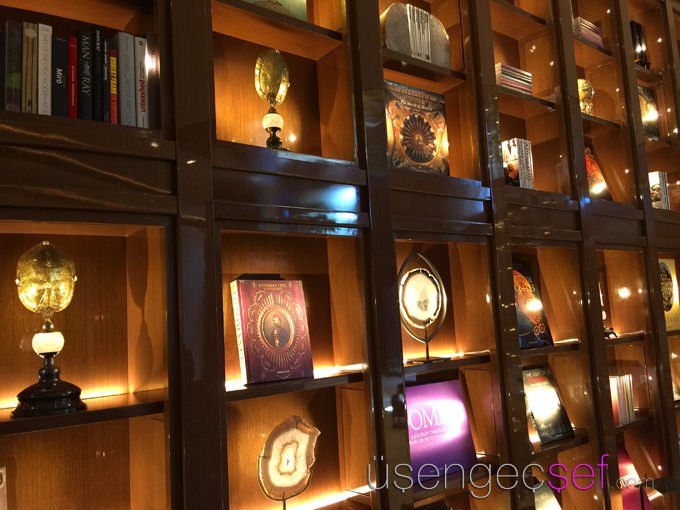 When you stand in the Atrium and look up you will see 'Supernova' a lighting installation created by the matematical joining of hundreds of glass panels. Even the cleaning of this 3D lighting fixture, that's even more impressive when viewed from the mezzanine floor and 'pushes the limits of design', is a 'case study' that requires immense operational success.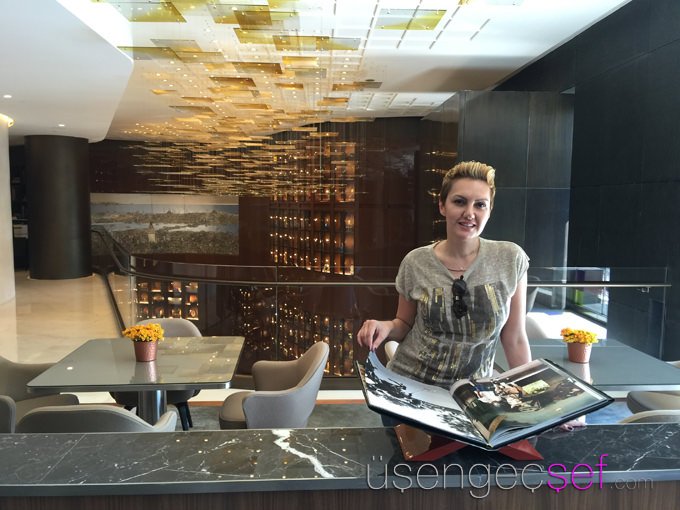 'The Library' located on the mezzanine floor boasts a fireplace which offers a romantic setting to curl up with a book on a winter day.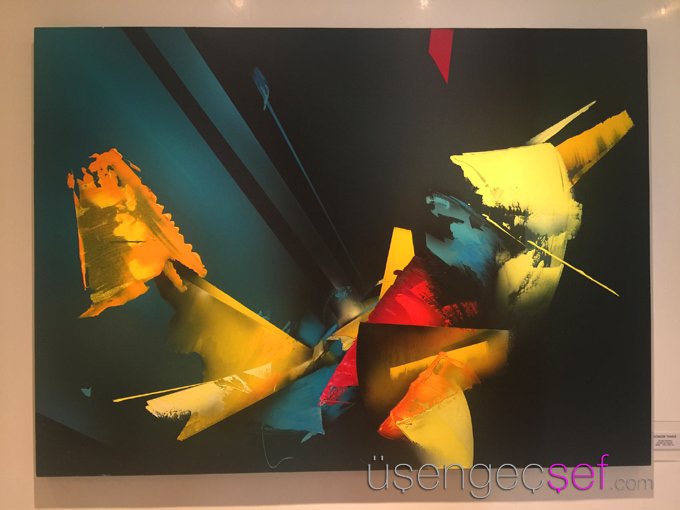 One of the most impressive aspects of the hotel is that, original art work by contemporary artists both local and international, such as Botero, Andy Warhol, Sam Francis, Devrim Erbil, Bedri Baykam and Ahmet Gümüştekin, belonging to the Demsa collection, one of the world's most prestigious art collections, are on display in all public areas including the guest rooms. I was told that with the increase in artistic endeavors, this collection which was started professionally by Demet Sabancı Çetindoğan and her husband Cengiz Çetindoğan 13 years ago, is now being transformed into a museum curated by Zaha Hadid, the first female architect Pritzker award winner. It was contemplated as the first step of an organic structure forming a platform from the beginning of Islam to Annish Kapoor.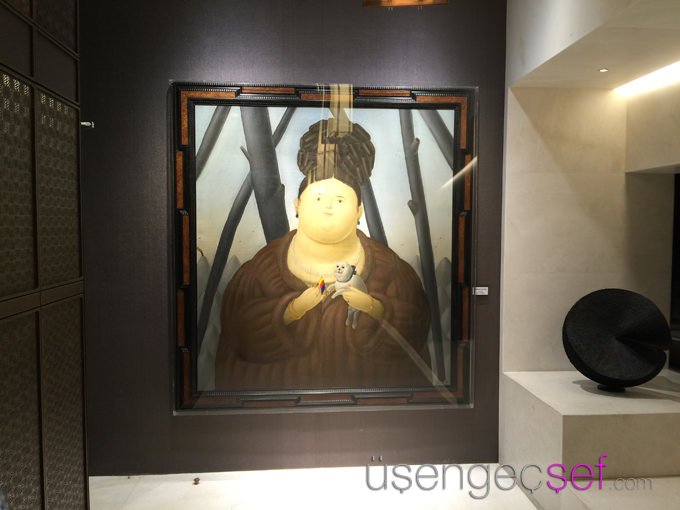 I hope she wouldn't hear that but, the painting that I lovingly call 'chubby lady with cat', 'La Prima Donna' by Fernando Botero, one of the world's greatest artists alive, is displayed right by the elevators on the Atrium level of the hotel. The 78 year old Colombian artist that declared ' I paint fat people because round and voluminous lines reflect humanity, nature and the joy of living' is famous for his style of depicting chubby people and animals.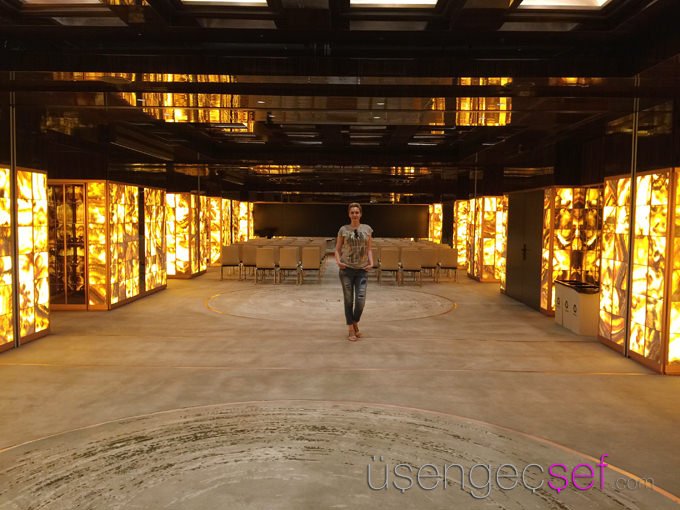 The Astor Ballroom which can accomodate 160 guests has an unbelievably beautiful ambiance created by it's onyx inlaid bronz wall panels and polished ebony ceiling. The hotel has 7 meeting rooms, equipped with the latest technology, most of which are on the mezzanine floor, with wonderful views of Maçka Park and natural day light all day long.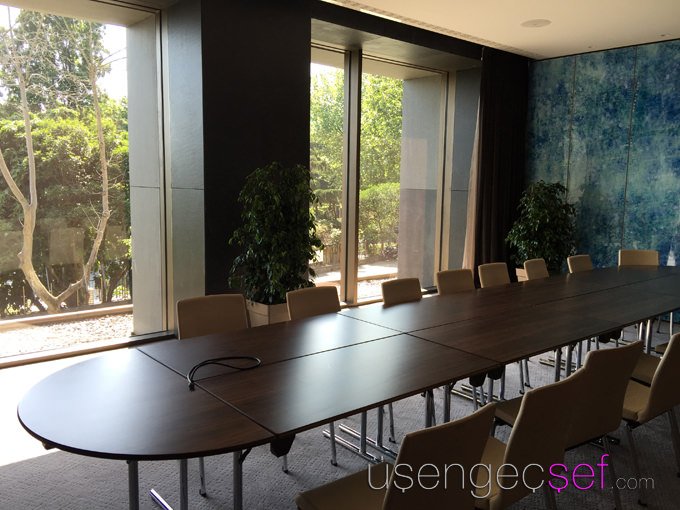 The 'Love' sculpture by Robert Indiana in front of St. Regis Brasserie, located on the street level of the hotel, at the junction of Mim Kemal Öke and Abdi İpekçi Streets is an iconic pop-art piece that can be identified with brand cities around the world. You wouldn't believe what kind of questions I had to answer from passers by just to take this photo for this photo shoot we did for you. This is instagram point that I think all hotels should have to support better relationships with their customers and the message is very clearly full of "LOVE" 🙂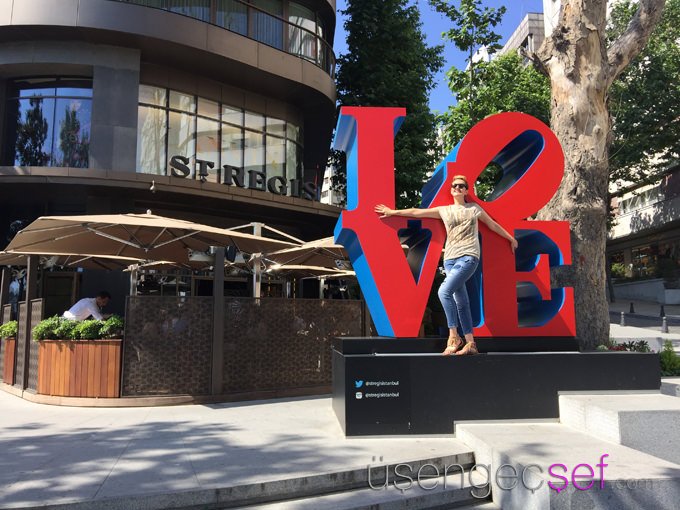 This hotel with all the art work from the collection of Demet Sabancı Çetindoğan and her husband, the owners of the hotel, is no different than a museum. One could visit this valuable art platform if only to see the art work. When you add Spago and Brasserie restaurants to the Park, shopping and spa, it's more than just a hotel, rather an intricate complex waiting to be discovered.
During my conversation with the young but experienced Director of Marketing Selim Ölmez who has been in the Starwood Group for 17 years working in Ankara, Qatar, St. Petersburg and Abu Dhabi, I find out that a very important part of the culture here is preserving heritage and paying homage to tradition.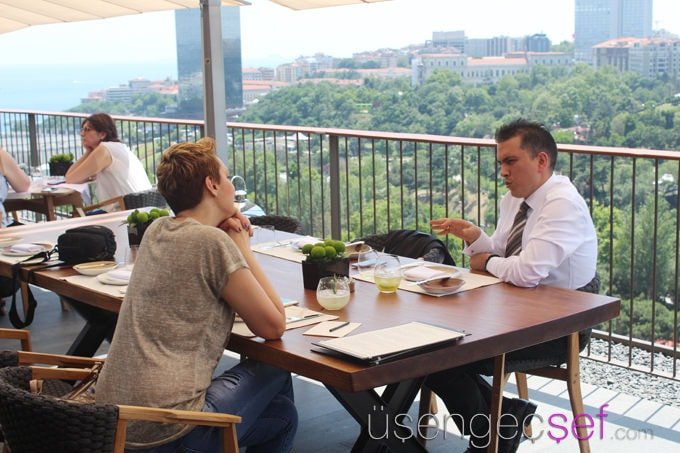 For example, they claim ownership of the famous Bloody Mary cocktail, which was first prepared in St. Regis with tomato juice, celery stick and herbs. They even have a special version for St. Regis Istanbul, made with Rakı and Şalgam, names "Misty Mary".
They also have this Champagne sabering ritual that is carried out at all St. Regis', dating back to the times of Napoleon. According to this ritual, every Wednesday, guest gather at the Atrium of the hotel to observe the General Manager and Head Butler, open Champagne bottles with swords called 'Sabers' and serve Champagne to all their guests.
ROOMS
Come lets talk a little about our Deluxe room which is the perfect synthesis of modern and classic design.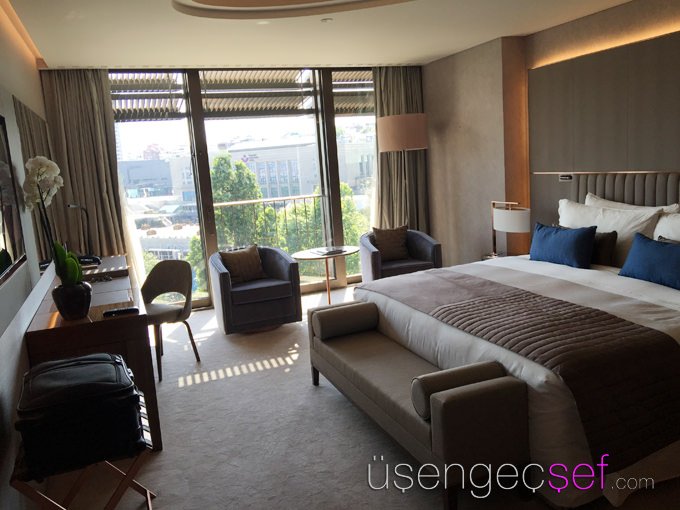 The first thing one notices is the 46" flat screen TV, high speed internet and the large and comfortable bed made specially for the hotel.
Calming and peaceful tones of earth and bronz have been used on the furniture and the lighting fixtures of the room that has been outfitted with valuable works of contemporary art. You can sit in your wingback chair across from resplendent views of Maçka Park and The Bosphorus and sip coffee that you have made with the Nespresso machine in your room or requested from your Butler.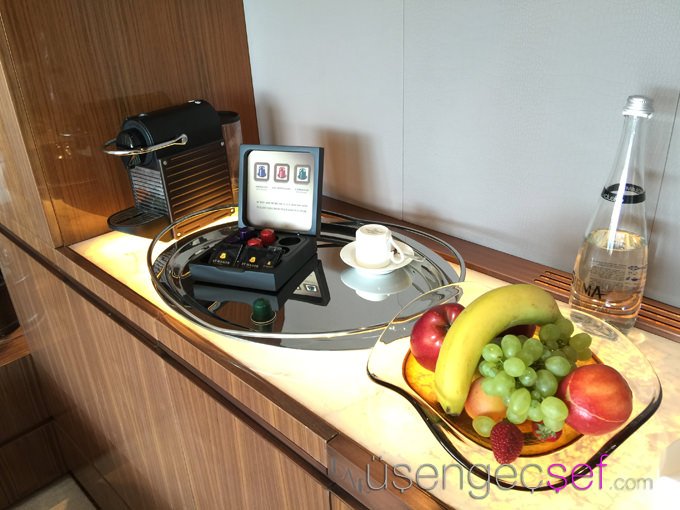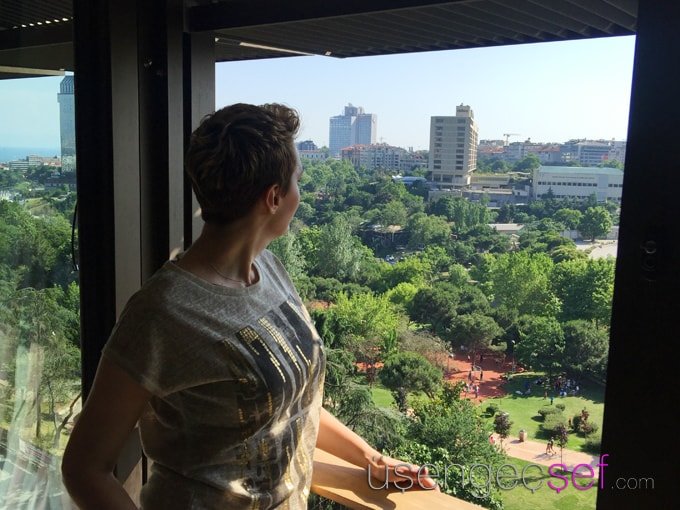 The glorious bathroom with it's completely marble covered surfaces, double sink, bathtub and closet sized shower also has a 19" televison imbedded in the bathroom mirror. The patterns on the walls are based on the first insurance maps of İstanbul created by the French. You can see this pattern in many areas of the hotel as well as on the meeting room walls. When you look closer you can make out the name of some streets written in French, helping you to identify the town and bringing on a feeling of nostalgia.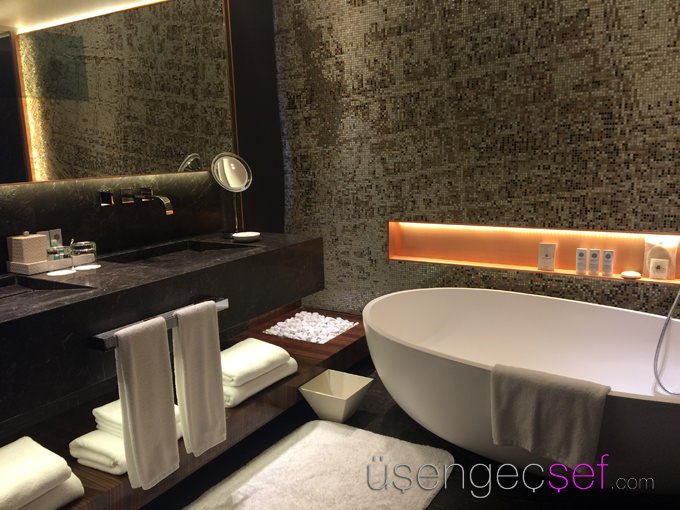 There is still a long time until dinner and a lot of corners of the hotel waiting to be discovered. So I think it is a good idea to order for in room dining, the famous Salmon and caviar pizza by the Chef of Spago restaurant, Wolfgang Puck, that I have been raving about to my husband for such a long time.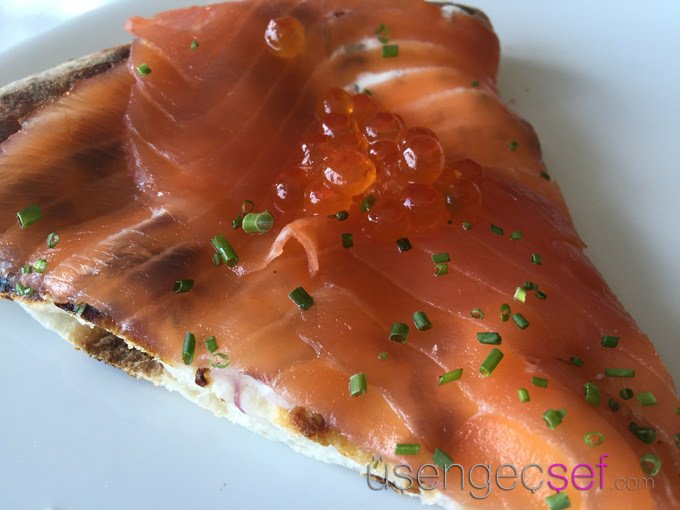 Before we let this delicious wood oven pizza with Creme Fraiche on the base and chives to top it off, overwhelm us with pleasure I think we should continue our exploration.
BENTLEY SUITE
Our first stop is the 'St. Regis Bentley Suite' that I mentioned in the beginning.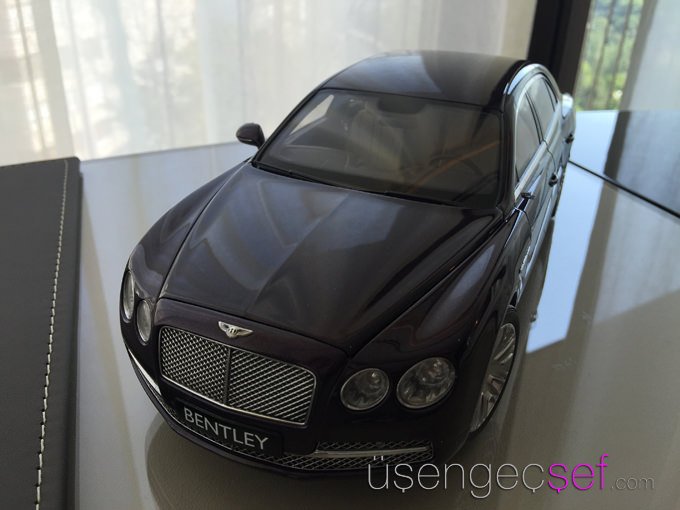 Bentley Suite is a consept suite designed completely by Bentley, incorporating handmade furniture and accessories that are the same of those used in the car itself.
A result of the collaboration between Bentley Motors and The St. Regis and inspired by the Bentley Continental model, this suite is a Robb Report award winner. Every detail of the room relates to some aspect of the car, from the dashboard to the clock, the car seats to the sound system, the seat belts to the backgammon board each aspect of the car is represented.
This Suite, which boasts a bed with a footboard resembling the front panel of the Bentley, from which emerges a remote controlled television, and has a spacious balcony and wide windows overlooking Maçka Park and the Bosphorus, speaks to the heart of luxury and performance lovers, but especially to the little boy that never grows up in every man. I can safely say this as my husband was entranced. 🙂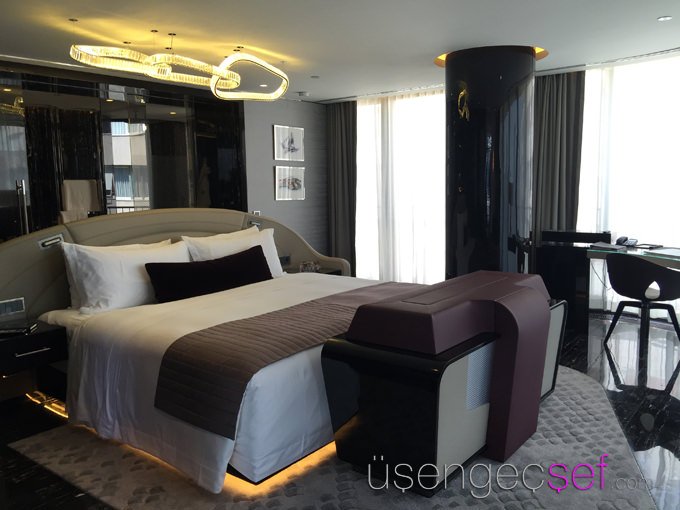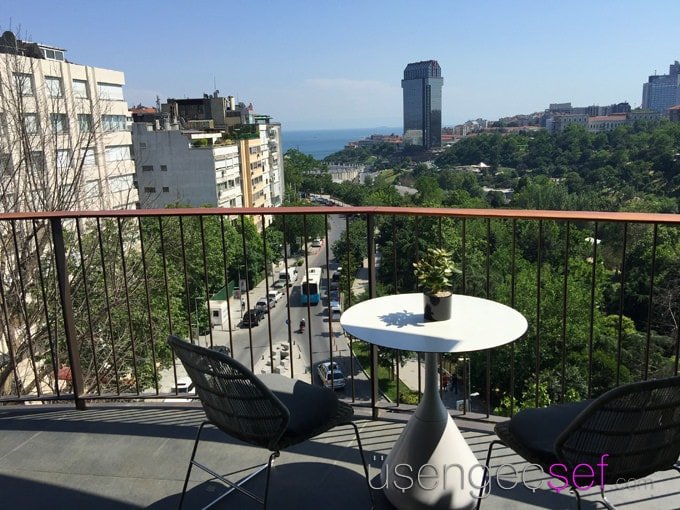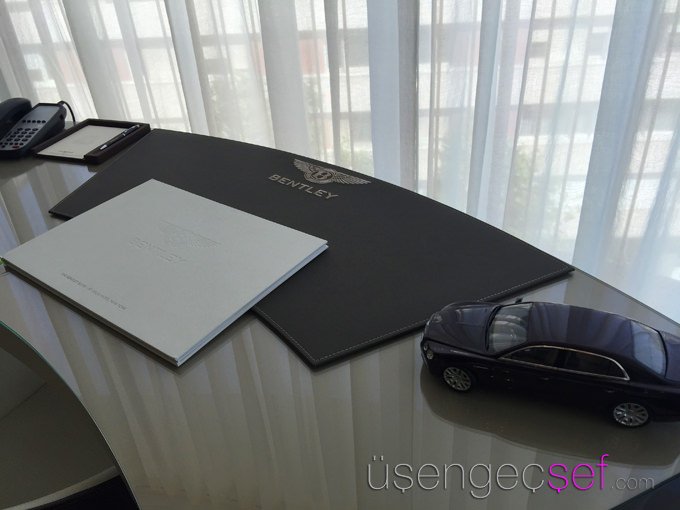 The couch upholstered with special Bentley leather with it's special Champagne chiller compartments just like in the vehicle resembles the lines of the Continental with it's strong lines and curves.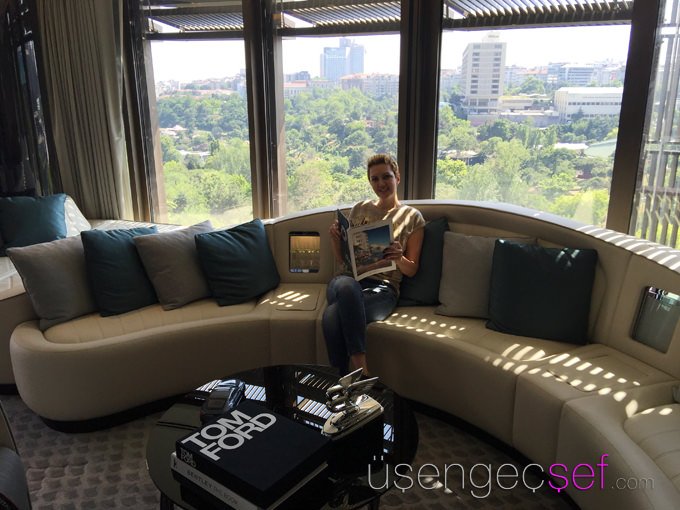 The Breitling clocks located in the bar area, same as in the Bentley, show the times for İstanbul, London and New York. Even a signature Bentley cigar case was not left out. The price of a night in this suite is around €5,000. It could be a blast to host a crowded bachelor party here 🙂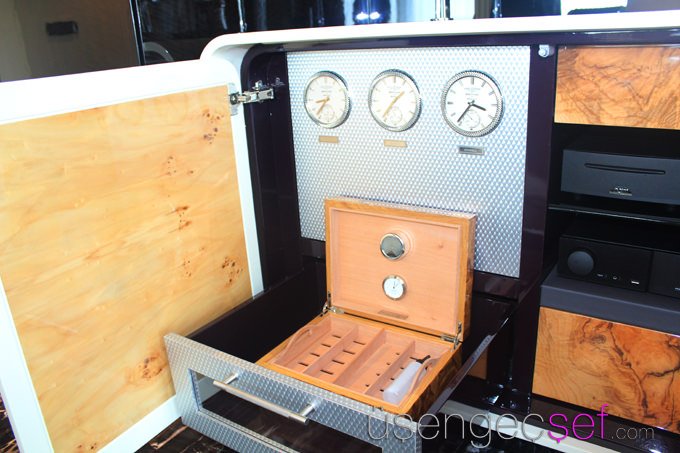 The 185 square meter Presidential Suite that we visited next offers a huge terrace, private kitchen and a large marble table for meetings or dining.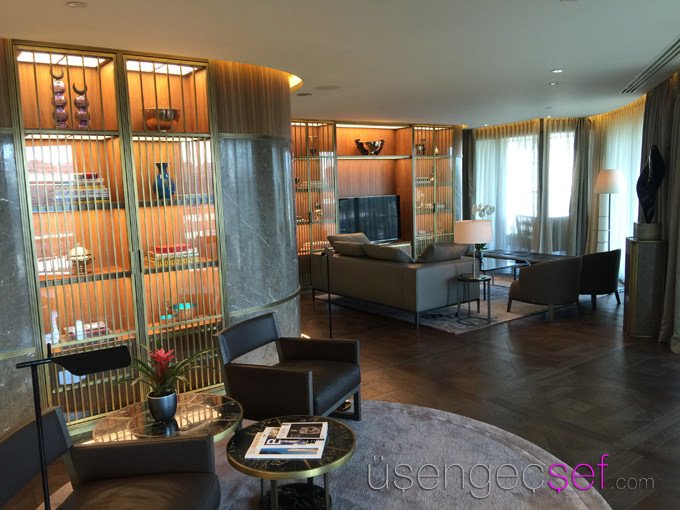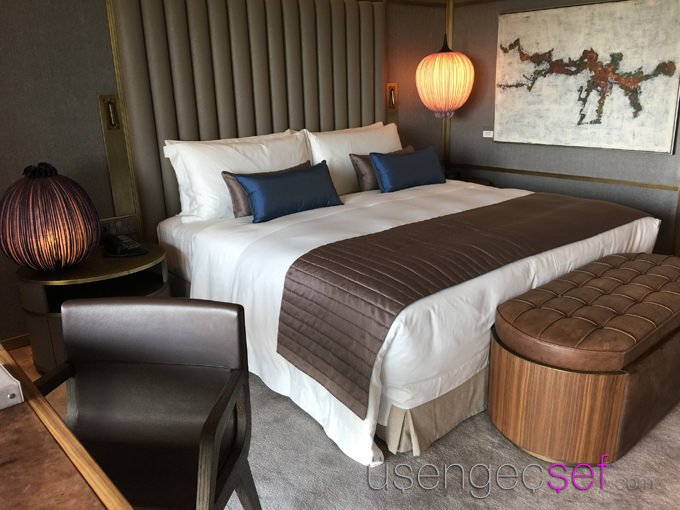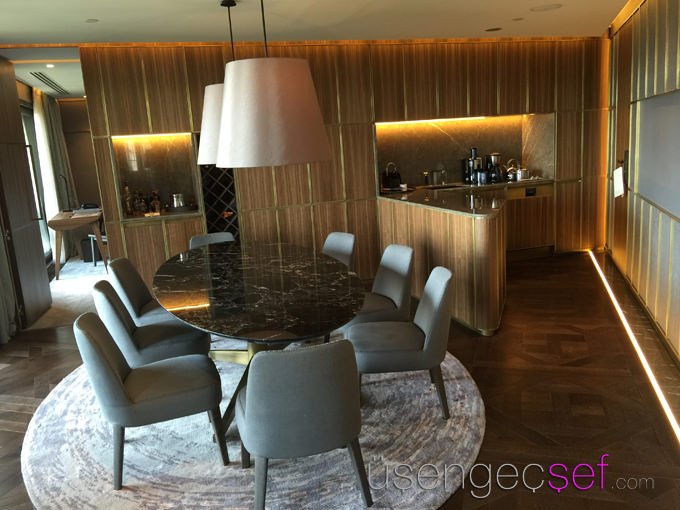 After exploring all corners of the hotel it's time to head to the most enjoyable location. Since I've now put on my robe, its time to go bye bye for a little bit!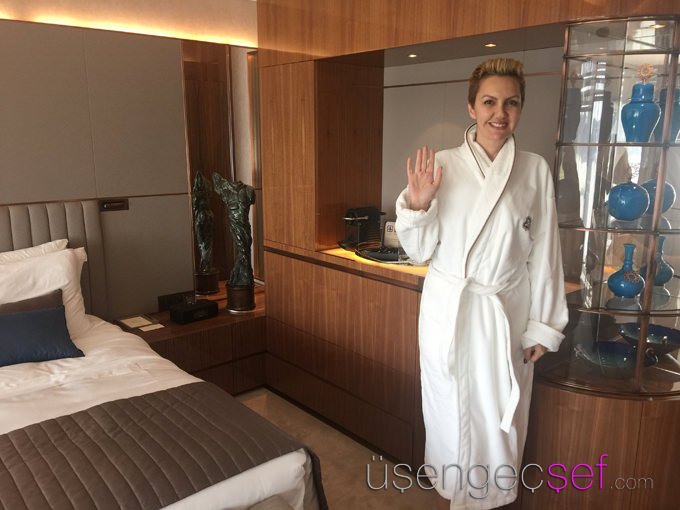 IRIDIUM SPA
Yes! Of course my first target is Iridium Spa! 🙂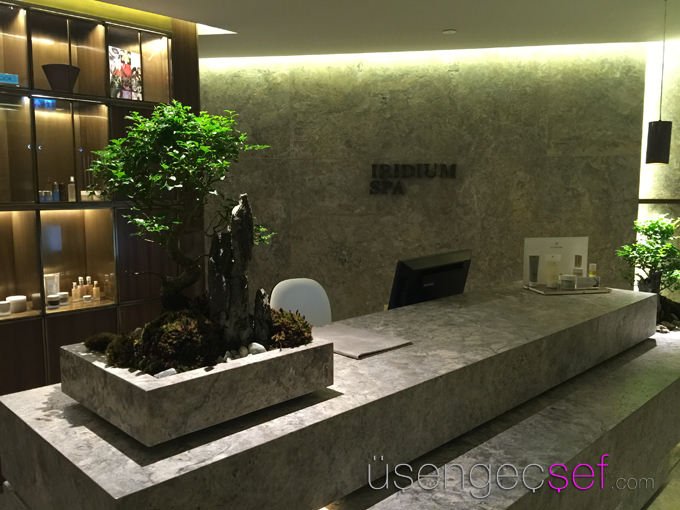 The Spa situated on 950 square meters has 7 massage rooms, 3 indoor pools of different sizes, a hammam and a Technogym outfitted with state of the art equipment incorporating outdoor trainings programs as well. If my stay is during good weather season I would undoubtedly prefer to take a brisk walk at Maçka Park right across the street for the benefit of fresh oxygenated air.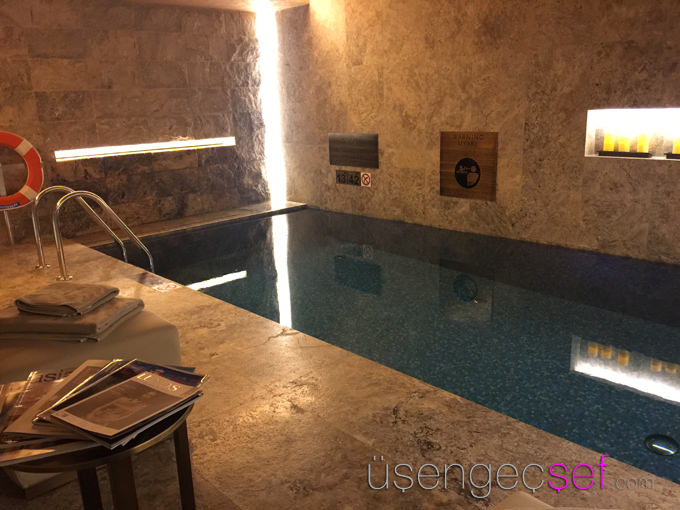 At the Spa, luxury brands such as Sundari and Omorovicza are being used for skin/facial treatments.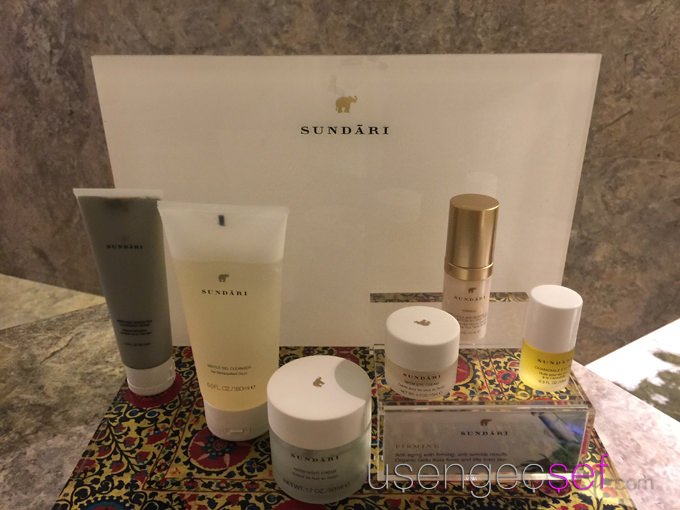 I'm excited for the relaxing massage that I will be receiving from Ms. Ayfer who comes highly recommended.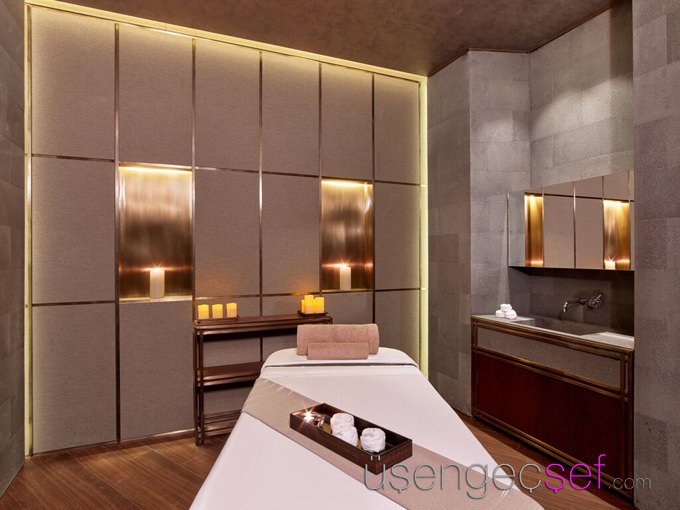 When she sees how sore I am from sitting at my desk in front of a computer all day she suggest to add a little Swedish and a little medical massage in to the mix. Once I turn myself over to the expert, I end up receiving the best and most effective massage of my life; I want to specially congratulate Ayfer hanım for her magical hands and her commitment to her work.
There are resting rooms for those who don't want to go up to their room straight after their massage, but even though I am completely undone I can't afford to procrastinate too much as I really want to see what St. Regis Brasserie, where we will be having our dinner, looks like during the day.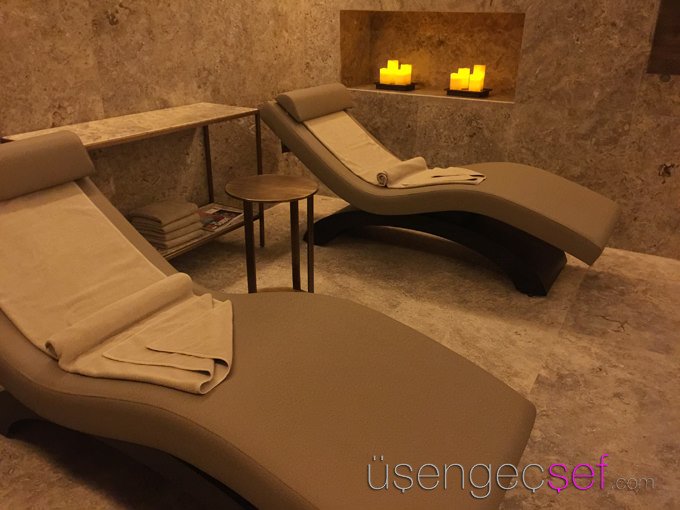 ST.REGIS BRASSERIE
Petit "O" Bar, located off the Atrium of the hotel is worth a visit, if not for it's famous cocktails and spirits including the afore mentioned Bloody Mary and Misty Mary, for "Bosphorus Breeze" a painting by Bedri Baykam.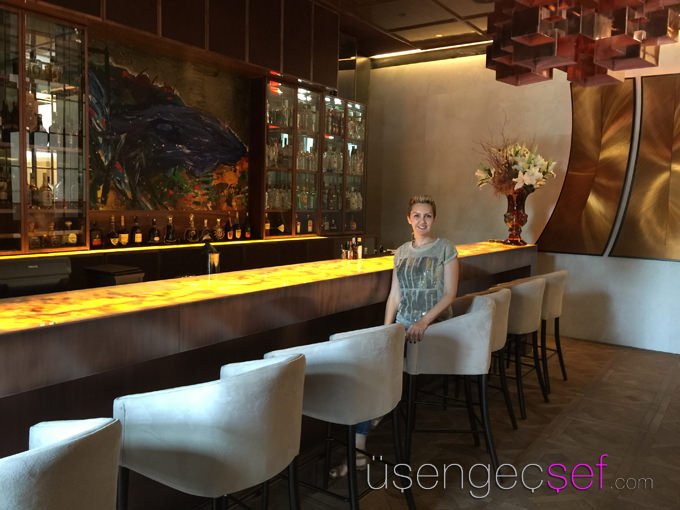 The elegant and comfortably designed restaurant, offering views of the hustle bustle of Nişantaşı as well as the opportunity to watch the open kitchen show put on by the chefs, resembles the famous Parisian brasseries of the 1920's. This being the case, naturally, society patrons, business people and Nişantaşı lovers have already designated these coveted tables as their new meeting place.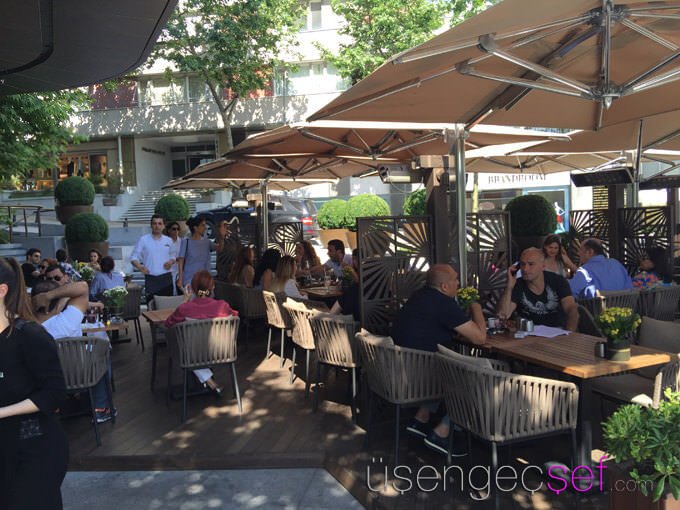 It is said that, back in the day, legendary Jazz musicians first took stage on the terrace of St. Regis New York. Now they have a similar Jazz club project for this brasserie in İstanbul. If there was a platform for soft, modern jazz and Jamie Cullum style covers, we would be the first to go; this is something that look for but can not find in İstanbul!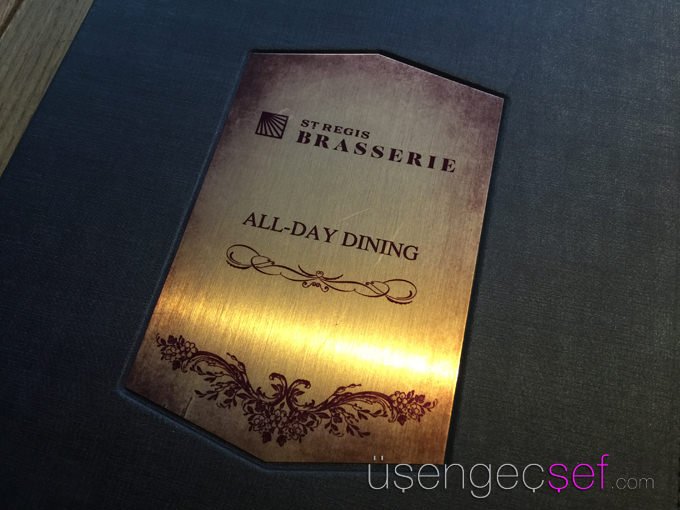 The Executive Chef Gürcan Gülmez has integrated Turkish flavors with touches of contemporary French cuisine to create a menu rich with choices for lunch and dinner.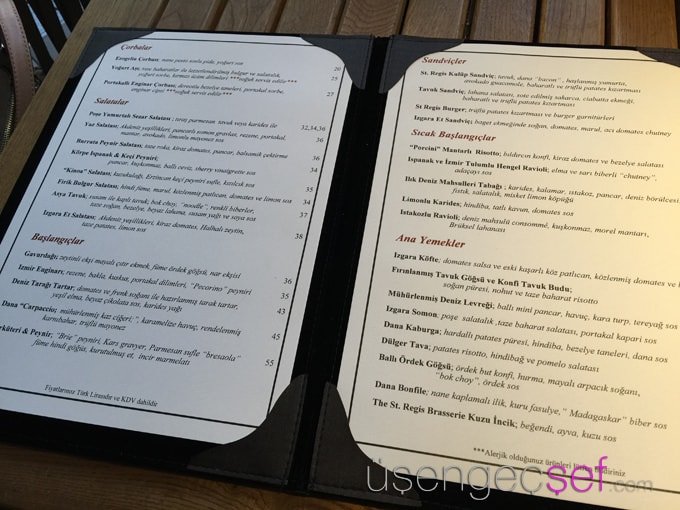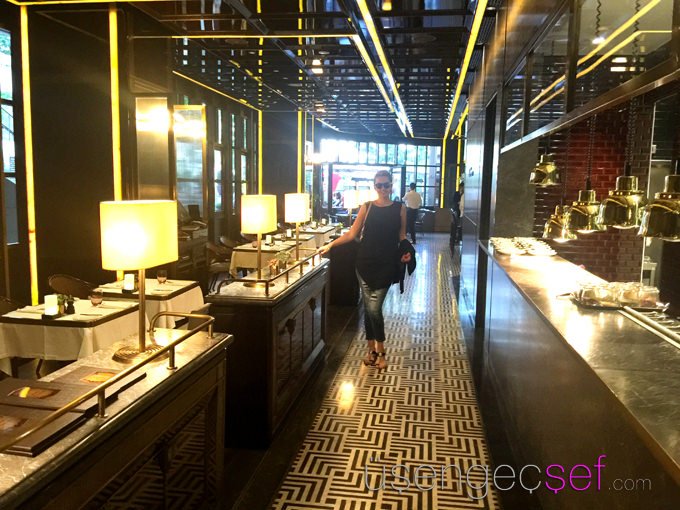 We started with 'warm seafood plate' consisting of 'sous vide' lobster, squid and shrimp with caramelised beetroot, pistachio crust and cucumber topped with lime foam. They cook Turkish flavors with French styles. Therefore even though there is a French touch the result is suitable for our palates.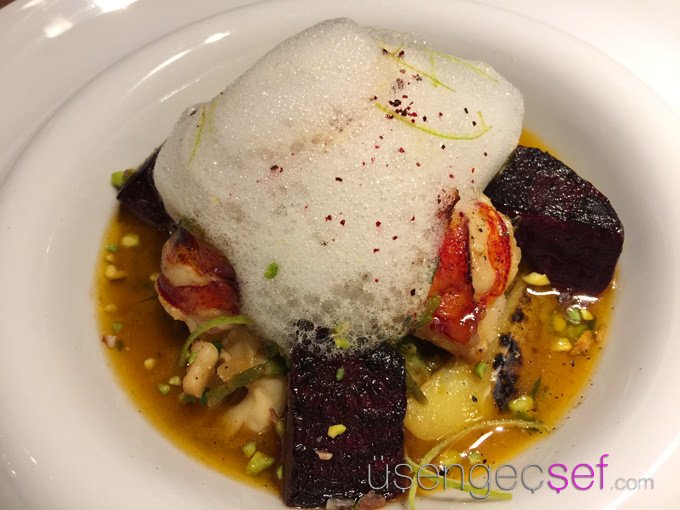 As our main dish we chose one of the most ostentatious dishes on the menu, Lamp Shank and Beetroot Confit on a bed of Aubergine Purée. The shank is cooked for 12 hours in olive oil and flavored with cranberry and tarragon to form a ball which is then rolled in an olive crust. It's served on an aubergine purée with the consistency of foam and topped with crisps made of lamb and pomegranate juice. The result? A delight!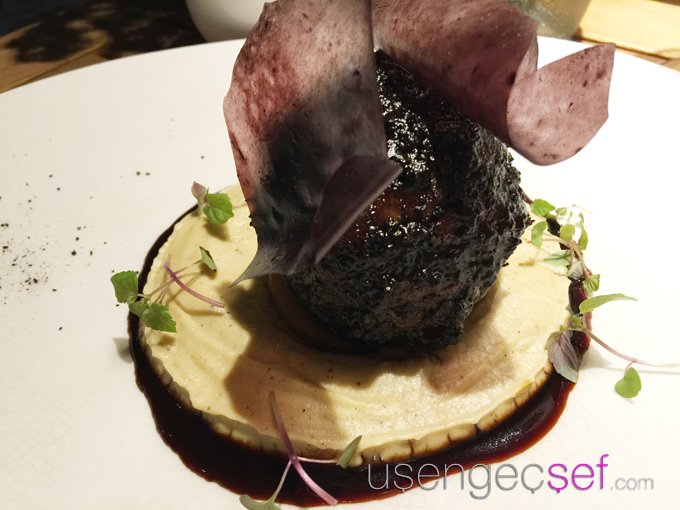 For desert the Chef suggested Pavlova with basil sauce served with Valrhona white chocolate mousse, fresh fruit and strawberry ice-cream and we like the idea very much 🙂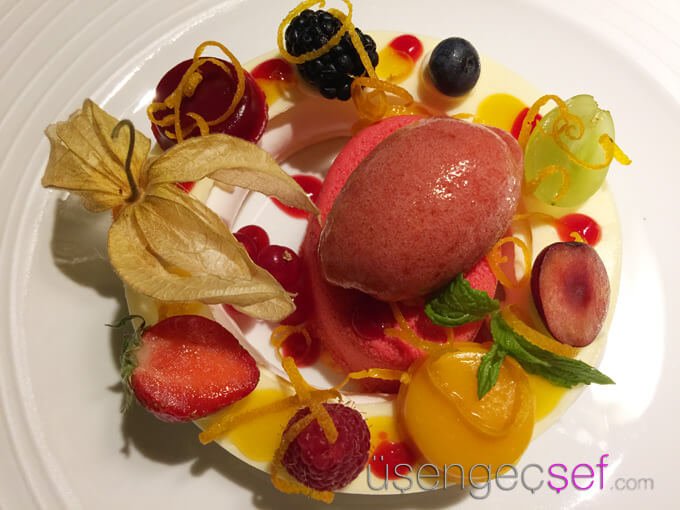 SPAGO RESTAURANT
Spago with it's menu that reflects famous Chef Wolfgang Pucks 'farm to table' philosophy is an extra addition to the culinary culture of İstanbul…
We appreciated that the prices at Spago have been kept moderate, unlike what we are used to in other restaurants of Michelin star chefs around the world, aiming to reach a wider audience. You can read my previous review of Spago where I've shared my impressions of it's cuisine in my Blog.
After dinner, we relaxed on the terrace of Spago, the Bar-Lounge section, with live DJ performances 5 nights a week, that takes your breath away with unparalled views of the Bosphorus as well as its delicious menu, music and signature coctails.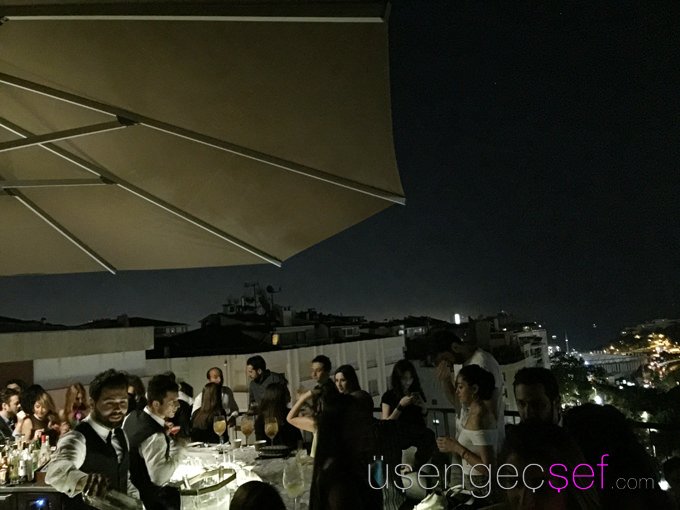 With these qualities, Spago's terrace has made a swift entry into the list of trendy places to hang out on Summer nights. The rasberry red cocktail 'Forbidden Kiss' unique to Spago, is only one of the factors that contribute to the amazing view.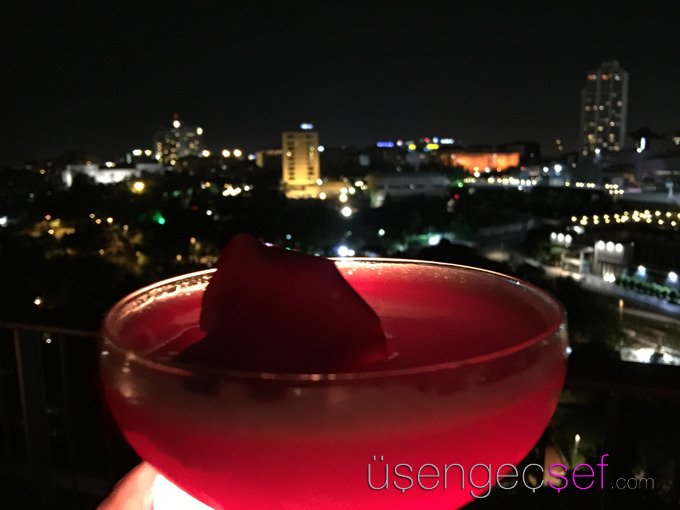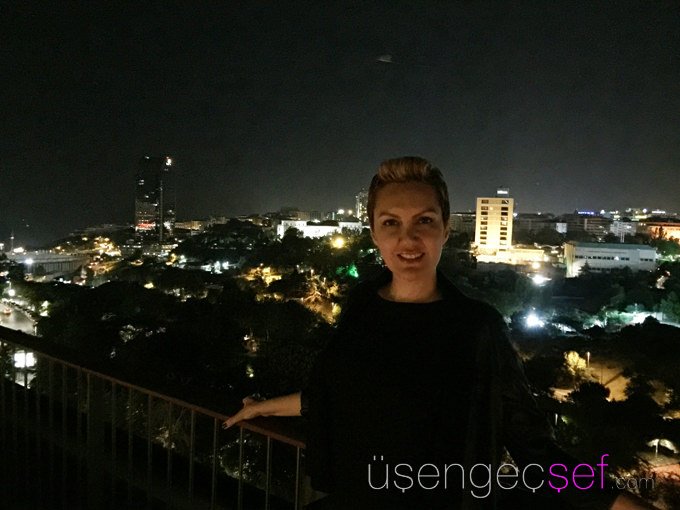 BREAKFAST AT SPAGO
Even though it's Sunday, it's best not to sleep 'till noon. So come on, it's breakfast time!  🙂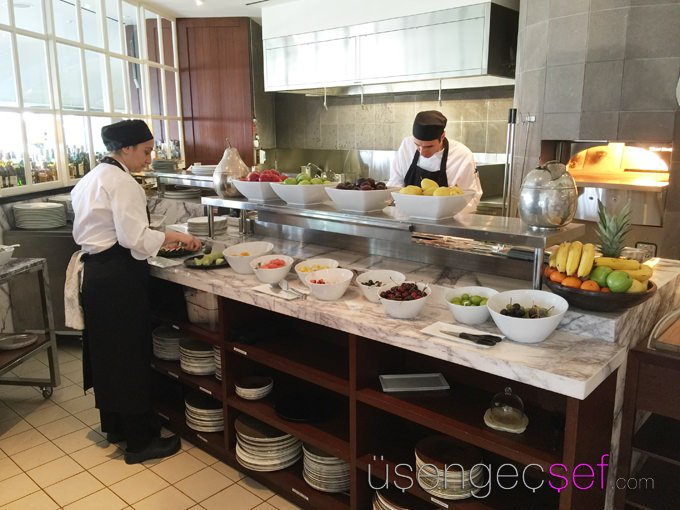 Hotel guest take their breakfast in Spago. An open buffet breakfast of delicious high quality choices is served in the kitchen section.
You can sit inside or choose a table to dine outside, it's up to your preference.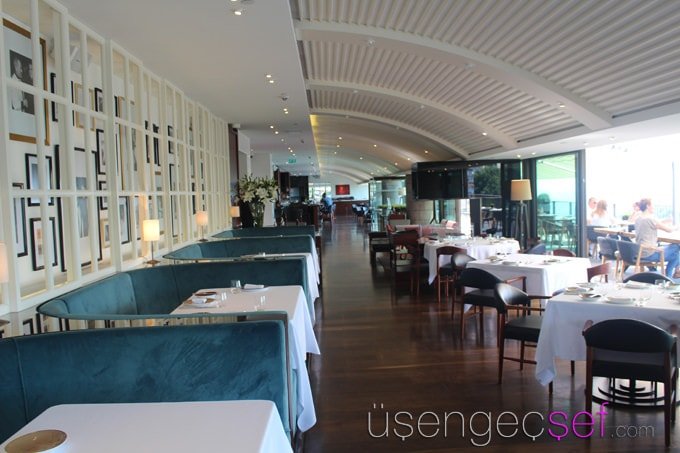 I really don't think I have to spell out "there is nothing better then starting the day with a nice cup of coffee and my newspaper on the terrace of Spago", it can be seen clearly on my face.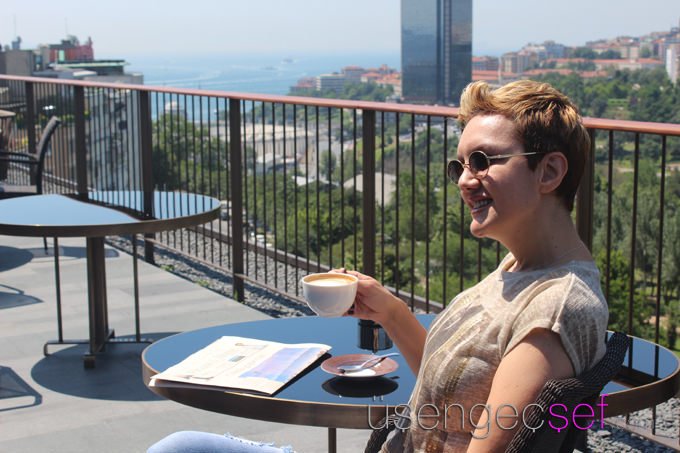 I complete the first half of my breakfast with a nice vegetable omlet. Once you are done with the savory we can start with the sweet part of breakfast.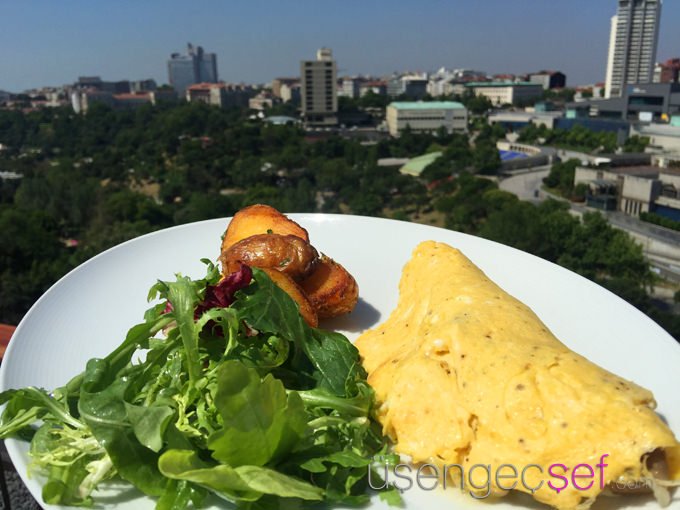 I think the star of the brunch at Spago with beautiful views of Maçka Park and the Bosphorus is this beyond amazing Pancake accompanied by colorful berries. I've been searching high and low for one so delicious but it was meant to be found today. I wish it would never end!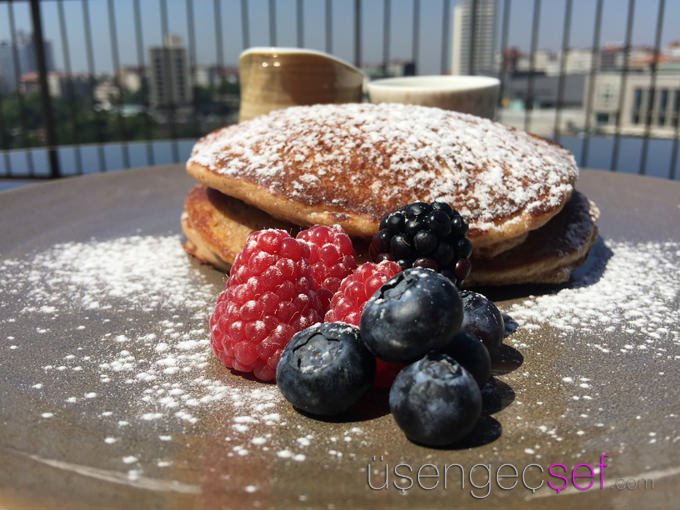 Having managed to eat too much among the sweet and savory choices, it's best if we take a nice after breakfast stroll in the gloriously green and invitingly appealing park across the street.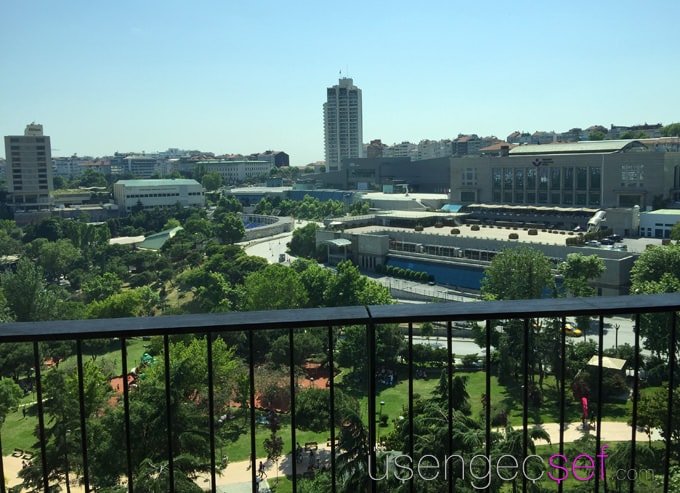 Since we are in Nişantaşı, we say: "let's arrange a meeting with out cousins" that we haven't seen for such a long time. We came together for a little picnic in Maçka Park enjoying the shadow of a big beautiful tree. The weather was absolutely perfect.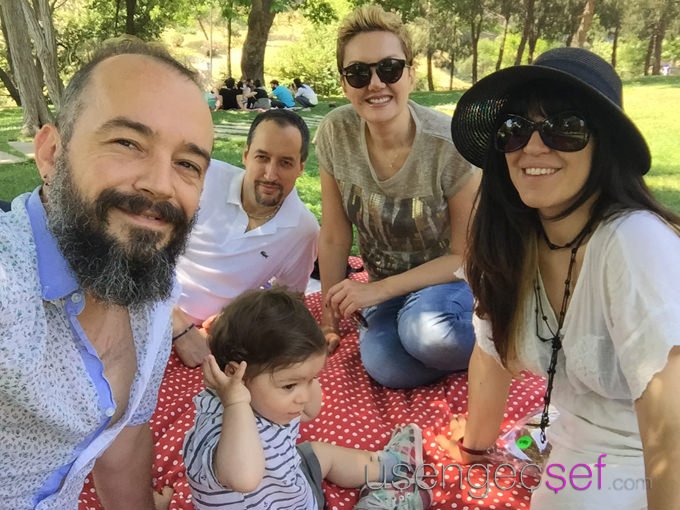 Now you see how my impressions on St. Regis İstanbul Hotel is. Time to say good bye until the next time 🙂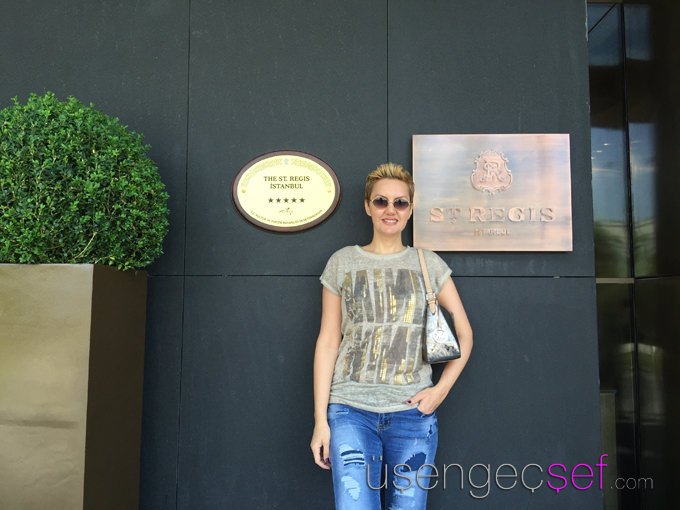 St. Regis İstanbul
Address: Mim Kemal Öke Cad. No: 35 Nişantaşı Şişli/İstanbul/Turkey